Roof Cleaning Cleveland, Ohio
When Is It Time For Roof Cleaning Cleveland, Ohio
Does your roof look dirty? Is it starting to show signs of discoloration or staining? If so, it is important to act quickly to prevent a bigger and more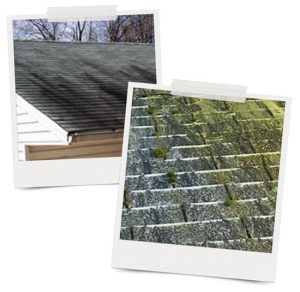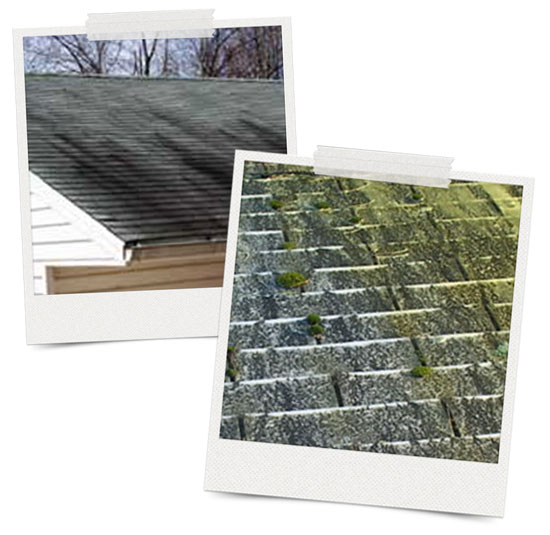 expensive project in the near future. This guide will help you understand the causes of roof stains, what you can do about them, and when to seek out roof cleaning in Cleveland.
Why Is My Roof Stained?
There are a few reasons your roof could be discolored, stained, or streaking. Here are the most common.
Algae
A common cause of roof staining is algae, specifically, gloeocapsa magma. These little plants can grow on shingles in any climate and result in unsightly black streaks on your roof. Gloeocapsa magma actually feed off of the limestone in asphalt shingles, and they love moisture, so they are most commonly seen on roofs that don't receive a lot of sun. Luckily, algae is easy to treat and won't damage your roof — if it is caught early and remediated by a roof cleaning Cleveland professional. If left too long, algae can degrade your roof's UV protection and turn into a really big problem—lichen.
Lichen
When algae is left untreated on your roof too long, it can combine with airborne fungus particles to create lichen — a complex organism that is a symbiotic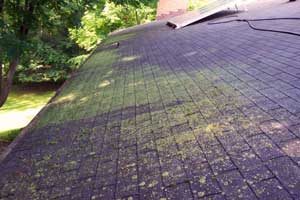 partnership of two separate organisms, a fungus and an alga. They grow in patches that can look like moss, or even take on a plant-like appearance. Lichen are usually gray or blue-green, but they can also be yellow, red, or orange. The roots of lichen attach shingles and use them as a food source! Lichen are very difficult to remove. The sooner you seek out roof cleaning in Cleveland, the better.
Other Causes of Roof Stains
Although most roof stains seen here in Northeast Ohio are caused by algae, other culprits might be to blame. Rust from roof flashing or other metal materials could cause brown or red staining. If the shingles near your chimney look discolored, soot could be to blame. Rarely, lower-quality shingles actually "bleed" color when exposed to extreme weather fluctuations.
What Can Be Done About Roof Stains?
You could always replace your roof, but this is an extreme — and expensive — way to get rid of roof stains. Why not have it cleaned instead? Cleaning can not only improve the appearance of your shingles but also add years of life to your roof.
Should you clean your roof yourself? You could — there are plenty of roof cleaning products at the local home improvement store — but unless you know what you're doing you could cause more damage to the roof, injure yourself, or even void your shingle manufacturer's warranty — all extremely costly mistakes. Instead, hire a professional roof cleaning company in Cleveland with years of experience.
Why Tri County?
Why choose Tri County Roof Cleaners? The answer is simple: we respect you, your roof and your home. Some roof cleaning companies or DIY enthusiasts use pressure washing to clean roofs. While blasting away at your roof might seem like a foolproof way to rid your shingles of stains, in reality, this can cause more harm than good, damaging your roof and causing your shingles to fail. Tri County Roof Cleaners uses a soft wash technique to treat and clean your roof.
We also use the best cleaning products on the market — professional solutions recommended by the major shingle manufacturers. Our cleaner is biodegradable and safe enough to be used without rinsing.
Finally, as a small, local company, Tri County provides personal service from start to finish. Did you know that some roof cleaning companies in Cleveland send customers an estimate without even visiting their home? They use satellite imagery to calculate the square footage and then send you a price.
We only offer onsite quotes, and they are always free. This creates an opportunity for you to ask questions and for us to educate you about what is actually happening to your roof — and how we will clean and remedy the problem.
Tri County Roof Cleaners is a fully-insured, Better Business Bureau-accredited business. Most importantly, with Tri County, you will always deal directly with the owner, John Martin. All of our customers can be assured that John and his professional and trained crew will address your roofing problem and treat your home and property with the respect of a neighbor. We look forward to making your roof look and perform its best.